---
Home | Latest |Paintings | Sculptures | Drawings | Fun Art | Biography | Contact Nadine |Site Map |Guest Book |Links |Back One Page to Paintings, Portraits
---
Nadine L. Meade's
"Bradfords," Oil Painting


Oil Painting
"372 Bradfords" © 2008 by Nadine L. Meade, 24" x 36"

SOLD
Congratulations Bob and Cindy Bradford!
Visit the Bradford's Peruvian horse website El Regalo De Dios
---
Below is an email from Cindy Bradford, shown here with her permission.
"Nadine, I love it!! You've pulled together all the things I want. It's colorful, vibrant, "happy," and inspiring.

I am so excited about what you are doing, and relieved that I was able to get my idea across to you. I'm not usually very good at that. You have done an excellent job of capturing the mental image that I have! Actually, this is a vision that the Lord gave me years ago. In this vision, Jesus is actually standing in this valley with the flowers and mountains and He is laughing. The flowers that are all around Him represent how He sees people--their various colors, shapes, etc are like people's different personalities and characteristics. (That's why the kids are in solid, bright-colored shirts in the pic.) He showed me through this vision that He enjoys and values each of us and the unique qualities He placed in us when He created us. The contrast between the mountains and valley are also symbolic. I tend to think the "mountain-top" experiences of life are desired and the "valleys" are dreaded and avoided. But He showed me that when He's present in our lives, the valley is a vibrant, lush place full of life and joy. In this vision, He extends His hand and invites all His children to come and dance and laugh with Him, and enjoy abundant life. I'm looking forward to having the kids in this vision and to be able to see it and share it with others.

A few years ago (after the vision), I found the painting entitled "Jesus laughing" and it hangs over our fireplace. It's 11" X 14" and will be to the right of your painting of the kids. That way the kids and Jesus will be "looking" at each other and it will express the joy that they have in His presence. I included the link to it so that you can see what I'm trying to pull together. That's why I need the kids to face to the right. http://www.jesuslaughing.com

Thanks!.........................Cindy
---
Below is a portion of the email Cindy sent after we had delivered the paintings.
Nadine, Hope your trip home is good. I don't know how to put into words how much the painting means to me! You are such a blessing! And, I'm grateful to be a recipient of the gift the Lord has given you. I never dreamed I would have a painting, much less one that captures the vision that the Lord showed me several years ago! Only He could bring all this together. It works beautifully with the "Jesus Laughing." I will be reminded how each of us is special to Him every time I look at it!

We really enjoyed y'all's visit today. I'm so glad you could stay awhile.

(Bob and Cindy gave Bill and Ann two paintings as a surprise present. #373 Alex Bradford and #374 Calley Bradford. Ann is Bob's sister.)
Ann was sooo surprised! She LOVED them! She had already decided before she left the farm today on where she was going to display them.

Thanks, again, and I know you will continue to have much success! We'll be following your website to see your work.

Cindy
---
Close ups of painting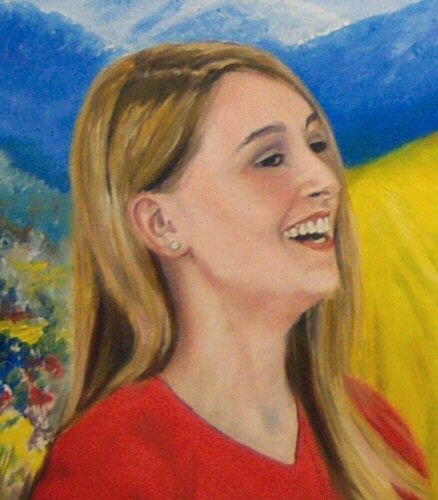 Close up of Natalie.
---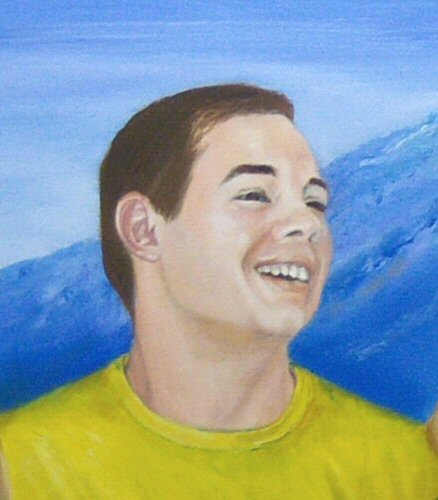 Close up Alex.
---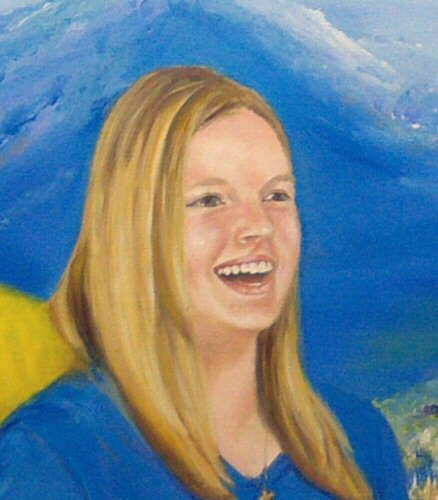 Close up of Calley.
---
Painting in progress
Photos of this painting in progress will give you an idea of how I went about doing this painting. It will also show you the unflattering stages of a painting that will help explain why many artist do not allow anyone to see a painting in progress. First impressions are important, and often seeing a painting at an incomplete stage changes the way you see the finished product.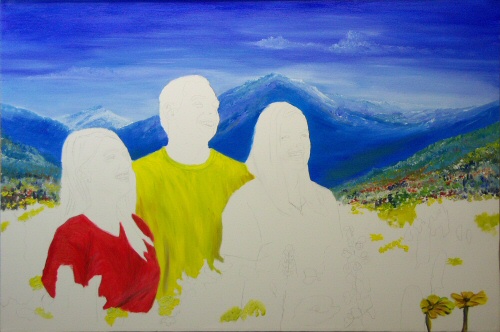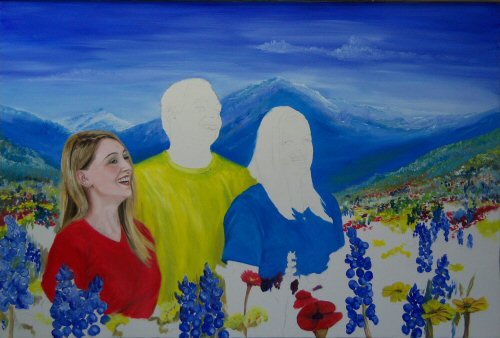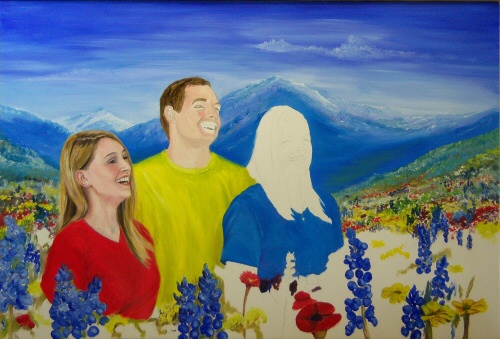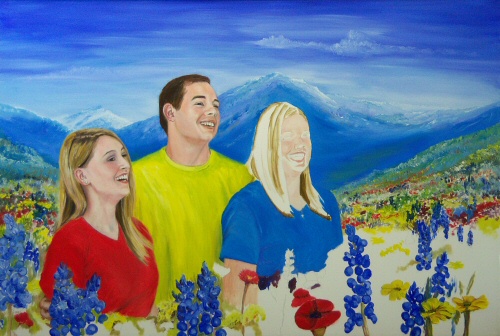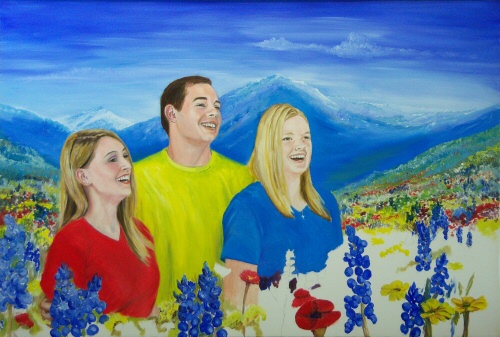 completed image

---
Return to Top |Back One Page to Paintings, Portraits
Home |Latest |Paintings |Sculptures |Drawings |Fun Art |Biography |Contact Nadine |Site Map |Guest Book |Links
---