Optimistic things I've done!
| | | |
| --- | --- | --- |
| Take a class! | Move into a barn! | Learn to paint! |
TAKE A CLASS
I decided to learn how to build my own web page while I am fairly unfamiliar with computer usage. I have had a computer which runs Windows 3.1 since 1994, and can use 4 or 5 programs on it fairly comfortably, but having been told it was to slow to use on the internet, I never tried to hook it up. I now have a new computer, (built by my brother in law...Thanks Bill!) which I have had since August 5, 2003, and I've been hooked up to the internet since August 29! I have had very limited opportunity to use other computers, so I feel it is an optimistic move for me to be learning how to use html to write web pages. (Today is September 9, 2003...how am I doing?)
BUILD AND LIVE IN A BARN
In 1997 my husband, Irl Meade-better known as Spider, and I sold our house in Shawnee and two rent houses, and moved into a 35' long school bus we had previously converted into a RV type vehicle. In the spring of '97 we built a barn (metal building/pole barn) which is 70' by 90', with a second floor, covered balcony which is 8' by 85'. When we moved we parked the bus inside the barn. Oklahoma summers are warm but with our bus in the shade of the barn it wasn't even necessary to run the air conditioner on the bus. We lived in the bus for 10 months before we had enough house built to move into.
One day we were sitting in the bus talking about all the progress we had made in the last year, buying 35 acres, building our barn, starting our cow herd, etc., when Spider started laughing. When I asked why he was laughing he said, "Because we're living in a bus!"
We have since been building living quarters across one end, 20' wide. It is two stories tall, so when we get done it will be plenty big for the two of us! To avoid any misunderstandings, Spider is the one primarily responsible for our neat building project, he is out laying concrete blocks for our safe room/master bath as I am here writing this! Although I help all I can, he is the brains and brawn behind our building project. We have hired a man to help, one day, while we hung the 40' trusses and hired labors when we poured concrete, but other than that the crew has been Spider and me!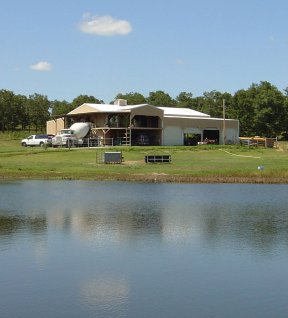 PAINTING
In 1997 I started painting after seeing a print I really liked. Taking some fabric paints, and working on a sheet of paper canvas I was surprised that I really liked the results! "Mandy", a painting of our palomino, wild horse won 1st place at the Oklahoma state fair in August of 1997. Was I ever surprised! I had only started painting in February (1997!) and didn't think I really had a chance! It seems I have been gaining rapidly on my painting career every since.


MANDY
Nadine L. Meade © 1997
Top of page.
HOME